Mourning floristry: Expression of feelings through flowers
It is difficult to overestimate the emotional significance of funeral rites. It is they who help us pay our last respects to the deceased and overcome grief. One of the key elements of these rites is mourning floristry, the art of expressing deep feelings through flowers.
Words cannot always express what is happening in the heart. Flowers, tender and defenseless, express what we cannot say. They speak with tears of the heart, they speak with those feelings that fill our being.
The importance of funeral floristry in funeral rites
Flowers have always been a symbol of life and beauty, but they can also convey deep feelings. In funeral floristry, each shade of flowers has its own symbolism. Such flower compositions help relatives and friends to express pain and memory of the deceased.
Each flower arrangement is a separate page of our grief. White roses, like angels, bring peace to the soul. Red carnations speak of boundless love that will remain forever. Chrysanthemums build bridges between life and mysterious eternity.
Key principles of funeral floristry
Shades of flowers and their symbolism
When choosing flowers for funeral compositions, it is important to understand their symbolism. For example, white roses express tenderness, and red carnations – sadness.
Composition and structure
Funeral compositions should be balanced and harmonious. Their structure should reflect calmness and dignity.
Selection of flowers for various ceremonies
Different ceremonies require different types of flowers. For example, gerberas add a light note to a memorial ceremony, and stargazers emphasize eternity.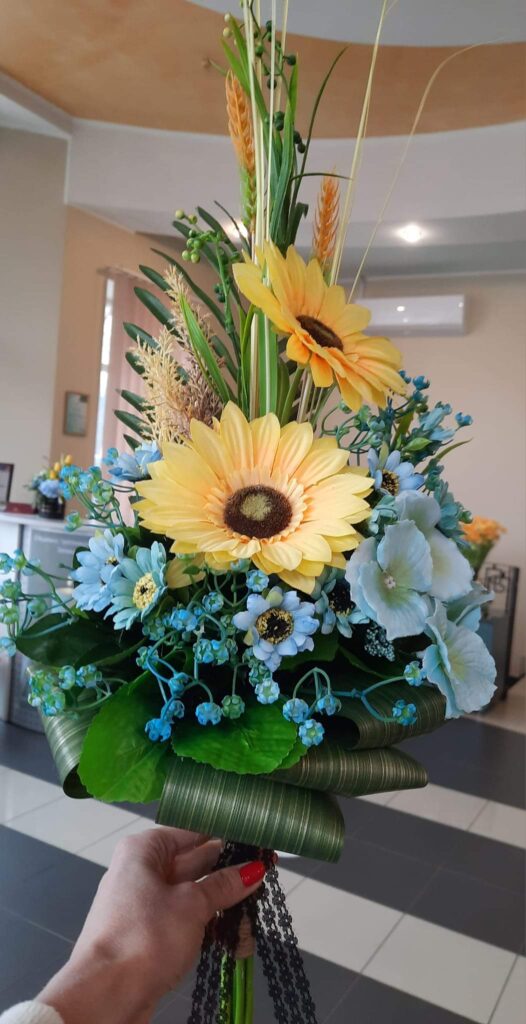 Peculiarities of design of mourning compositions
Wreaths
A wreath is a symbol of most funeral ceremonies. It has a round format, symbolizing the eternity of life, reflecting an individual approach to the memory of the deceased.
The ratio of colors and shapes
Colors and shapes in mourning compositions should correspond to the mood of the ceremony. The harmony of colors creates a sense of harmony, and the variety of forms creates expressiveness.
Compliance with style and mood
Funeral floristry requires restraint and sophistication. The compositions should correspond to the mood of the ceremony and the wishes of the family.
Conclusion
Funeral floristry is an art that helps express deep feelings and even find some peace in grief. Flowers become mediators between life and death, helping us preserve memory and honor the dead.